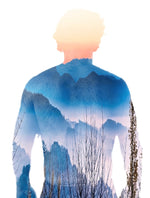 It's 2010 and my 18-year-old body has only just got accustomed to having armpit hair. As a late bloomer, I frustratingly wasn't growing much hair in the desirable places I wanted i.e. beard, snail trail and rug. Fast forward 10 years and I got what I wanted, and more. The beards come through nicely, I have a decent rug and…woah woah woah, what is THAT. It's back hair. I've got bloody back hair. Fantastic.
 But what am I going to do about it?
 Well... when it first began emerging during my uni years, the growth was slow, and hairs were sparse. It was manageable and I didn't care. All I had to do was pressure one of my housemates to operate my BaByliss trimmer every now and again and take care of it. As the years pass and you inevitably return home, get a job and move out - I found myself short of able and willing pals to shave my damn back… and there's only so many times you can ask your mum to do the job. So here lies the problem. The hairs coming thicker and faster and with lots more tops off sun-soaked holidays getting pencilled in and no-one to keep by back in check - I needed a solution.
 Now, an obvious choice is to just go and get my back waxed but with a quick google search I can see that a male back wax in London is going to set me back £45 at least and all outside the comfort of my own home. I thought to myself… there has to be a more convenient way to streamline my back as and when I please and all for a reasonable price. I found nothing and naturally there were no female substitutes.
 I therefore embarked on a mission. To provide the solution, by the man, for the man.